About SendTek
Founded in 1999, SendTek Corporation provides operators, service providers and system integrators reliable and user-friendly networking solutions, which leverages customers to deploy their value services efficiently for the fast growing demands in broadband market.
With customer's consideration of the minimal equipment investment and the lowest operating cost in mind, SendTek continuously dedicates to incorporate the latest product innovation with customers' experiences accumulated from fields.
In OEM/ODM services, SendTek supplies channel partners customized supports of product integration.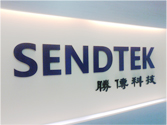 SendTek Corporation
11F-1, 27, Guanxin Road, Hsinchu 30072, Taiwan Tel: +886-3-567-8686 Fax: +886-3-567-8333 email: sales@sendtek.com